The Statue
Date posted: August 3, 2008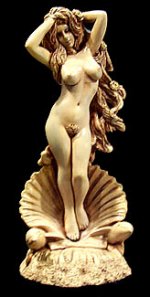 Standing tall on a pedestal so high
Judged or crowned with your every sigh
Shivering in the cold.. all alone
Taking the heat.. your sins I atone
Facing the wind or leaving a mark
Hiding the cracks in the dark
Raising a torch.. hailing the sun
Dear man.. put down your gun
The statue of liberty I am.. for liberty is my cause.
Posing in a secret garden of pleasure
I see you eyeing my hidden treasure
Staring at my sculpture whenever you can
Bragging that you are not my fan
Forgetting that I am for real
Forgetting… how real I am
Reaching out to you.. please let me be
Reaching out to you.. oblivious you are to me
I am Aphrodite… kneel before me.
Abandoned in a crowded square
Watching common brown birds circling my hair
The crows I scare away
The vultures are here to prey
Tired of their shrieks I turn a deaf ear
Their dump and dung I know I fear
Observing them as they come and go
Writing the end of the men I know
I am just a statue in a story
Turn the page.. this is my glory.