Ask Marwa: Put your Ego Aside
Date posted: June 15, 2011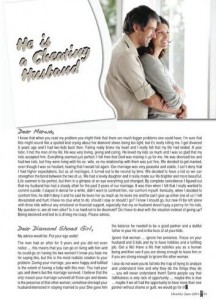 Dear Marwa,
I know when you read this problem you might think that there are way bigger problems one could have; I'm sure that this might sound like a spoiled brat crying about her diamond shoes being too tight, but it's really killing me. I got divorced 6 years ago and I had two kids back then. Failing really broke my heart and I really felt that my life has ended. A year after, I met the man of my life. He was very loving, giving and caring. He loved my kids so much and I was so glad that my kids accepted him. Everything seemed just perfect; I felt then that God is making it up for me. He was divorced too and had two kids, but they were living with his ex- wife, so my relationship with them was just fine. We decided to get married, even though I was so hesitant, fearing that I would fail again. Our Marriage was very peaceful and stable, I can't deny that I had higher expectations, but as all marriages, it turned out to be neutral by time. We decided to have a kid so we can strengthen the bond between the two of us. We had a lovely daughter and it really made our life brighter and more beautiful. Life seemed to be perfect, but then in a glimpse of an eye everything just changed. By complete coincidence I figured out that my husband has a steady affair for the past 3 years of our marriage. Here when I felt that I really wanted to commit suicide. I stayed in denial for a while, didn't want to confront him, nor confront myself. Ironically, when I decided to confront him, he didn't deny and he said he loves her as much as he loves me and he can't give up any of us! I felt devastated and hurt; have no clue what to do, should I stay or should I go? I know I should go, but now I'll be left alone with three kids without any emotional or financial support, especially that my ex husband doesn't pay a penny for their kids. My question is: are all men alike? Is it so hard not to be deceived? Do I have to deal with the situation instead of giving up? Being deceived and lied to is driving me crazy. Please advice
__________________________
Dear Diamond Shoes Girl
My advice would be: Put your ego aside!
The man had an affair for 3 years and you did not even notice … this means that you can go on living with him and he could go on having his two women! I know you hate me for saying this but this is the most realistic solution to your problem. During your marriage, you were happy and fulfilled to the extent of having a baby with this man. You had your ups and downs but the marriage survived. I believe that the only reason your marriage survived all those ups and downs is the presence of that other woman; somehow she kept your husband interested in staying married to you! She gave him the balance he needed to be a good partner and a dutiful father in your life and in the lives of all your kids.
Ignore that woman … ignore her presence. Focus on your husband and 3 kids and try to have hobbies and a fulfilling job. Get a life! Have a life that satisfies you as a human being and then see if you are strong enough to leave him or if you are strong enough to ignore the other woman.
I also do not want you to fall into the trap of trying to analyze and understand men and why they do the things they do … you will never understand them! Some people say that faithfulness is only lack of opportunity … maybe this is true … maybe if we all had the opportunity to have more than one partner without shame or guilt, we would go for it!