Ask Marwa: I am in love with my best friend's husband (Identity Magazine)
Date posted: November 7, 2011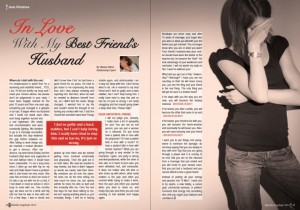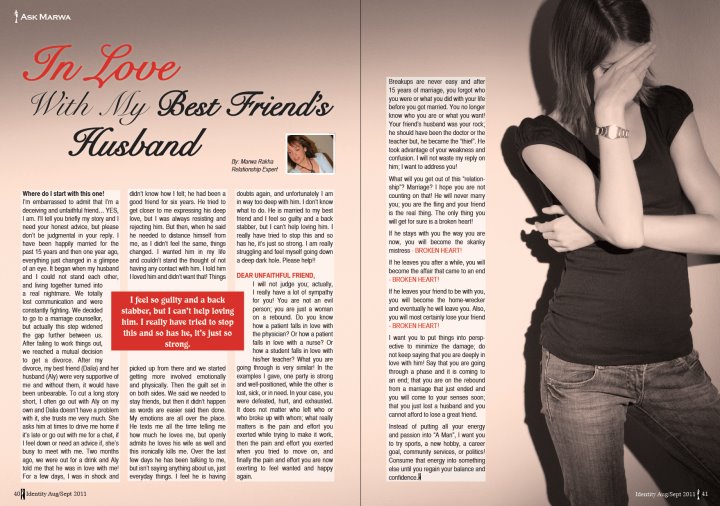 Where do I start with this one!


I'm embarrassed to admit that I'm a deceiving, unfaithful friend… but YES, I'm. I'll briefly tell you my story and I need your honest advice but please don't be judgmental in your reply. I have been happily married for the past 15 years and then one year ago, everything just changed in a glimpse of an eye. My husband and I started not to bare each other, living together turned out to be like a real nightmare. We totally lost communication and we were fighting constantly. We decided to go to a counselor, but actually this step widened the gap between us more. After failing in all trials, we mutually decided to get divorced. After my divorce, my best friend (Dalia) and her Husband (Aly) were very supportive to me and without them, it would have been unbearable. To cut a long story short, I often go out with Aly on my own and Dalia hasn't a problem with it, she trusts me so much. She asks him at times to drive me home if it's late or go out with me for a chat, if I feel down or need an advice if she's busy to meet me. Two months ago, we were out for a drink and Aly told me that he was in love with me! For a few days, I was in shock and didn't know how I felt; he had been a good friend for six years. He tried to get closer to me expressing his deep love, but I was always resisting and rejecting him. But then, when he said he needed to distance himself from me, as I didn't feel the same, things changed. I wanted him in my life and couldn't stand the though of not having contact with him. I told him I loved him and didn't want that. Things picked up from there and we started getting more involved emotionally and physically. Then the guilt set in on both sides. We said we needed to stay friends, but then it hasn't happened as words are easier said then done. My emotions are all over the place. He texts me all the time telling me how much he loves me, but openly admits he loves his wife as well and this ironically kills me. Over the last few days he has been talking to me, but isn't saying anything about us, just everyday things. I feel he is having doubts again, and unfortunately I am in deep with him. I don't know what to do. He is married to my best friend and I feel so guilty and a back stabber, but I can't help loving him. I really have tried to stop this and so has he, it's just so strong. I am really struggling and feel myself going down a deep dark hole. Please help
Dear Unfaithful Friend
I will not judge you; actually, I really have a lot of sympathy for you! You are not an evil person; you are just a woman on a rebound. Do you know how a patient falls in love with the physician? Or how a patient falls in love with a nurse? Or how a student falls in love with a teacher? What you are going through is very similar! In the examples I gave, one party is strong and well-positioned while the other is lost, sick, or in need. In your case, you were defeated, hurt, and exhausted. It does not matter who left who or who broke up with who; what really matters is the pain and effort you exerted trying to make it work then the pain and effort you exerted trying to move on, and finally the pain and effort you are now exerting to feel wanted and happy again.
Breakups are never easy and after 15 years of marriage, you forgot who you were or what you did with your life before you got married. You no longer know who you are or what you want! Your friend's husband was your rock; he should have been the doctor or the teacher but he became the "thief". He took advantage of your weakness and confusion. I will not waste my reply on him; I want to address you!
What will you get out of this "relationship"? Marriage? I hope you are not counting on that! He will never marry you; you are the fling and your friend is the real thing. The only thing you will get for sure is a broken heart!
If he leaves you after a while, you will become the affair that came to an end – BROKEN HEART!
If he leaves your friend to be with you, you will become the home-wrecker and eventually he will leave you. Also, you will certainly lose your friend – BROKEN HEART!
I want you to put things into perspective to minimize the damage; do not keep saying that you are deeply in love with him! Say that you are going through a phase and it is coming to an end; that you are on the rebound from a marriage that just ended and you will come to your senses soon; that you just lost a husband and you cannot afford to lose a great friend.
Instead of putting all your energy and passion into "A Man", I want you to try sports, a new hobby, a career goal, community services, or politics! Consume that energy into something else until you regain your balance and confidence.