YOUR CRIMES ARE DOCUMENTED ON OUR LAPTOPS #NOSCAF #Jan25
Date posted: January 6, 2012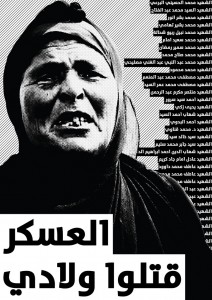 Image by Gaberism
THIS ARTICLE WAS PUBLISHED IN IDENTITY MAGAZINE IN DECEMBER 2011
DOCUMENTING REVOLUTION EGYPT – PART TWO
PART ONE: HERE
On January 25th, 2011 thousands of Egyptians occupied Tahrir square in the biggest anti-regime demonstration. On January 28th, aka Friday of Anger, central security forces (CSF) used live ammunition, tear gas, metal pellets, water hoses, and rubber bullets to disperse protesters resulting in the death of 800 martyr and the injury of more than 5000 Egyptian. Demonstrations filled every square in Egypt! Millions of Egyptians marched demanding freedom, equality, and social justice. On February 11th Mohamed Hosni Mubarak – Egyptian President for the last 30 years – stepped down. Between January 25th and February 11th Egypt witnessed the resignation of the Nazeef Cabinet, the short-lived Ahmed Shafik Cabinet, the first Deputy President Omar Soliman, armored vehicles in the streets, camels and horses attacking protesters in a scene from Arabian Nights, curfews, torching of government buildings, prison-breaks, and the downfall of the infamous state security building. A new chapter in Egyptian history began when Essam Sharaf was appointed Prime Minister and the Supreme Council of Armed Forces (SCAF) promised to hand over power within 6 months. Tahrir revolutionaries and the Egyptian public were happy and optimistic!
Over the past 9 months the decisions and actions of SCAF have been a constant disappointment for Egyptians; almost every Friday, there was a demonstration of some sort fighting one form of injustice or the other. Egypt has not changed! It is even safe to say that things have deteriorated! Evacuating Tahrir square by force on several occasions in March, April, June, and Ramadan, random arrests, military trials for civilians (more than 12,000 Egyptian), virginity tests to humiliate Egyptian girls who were arrested from the square (denied at first then confirmed anonymously to CNN correspondent), draft laws prohibiting peaceful demonstrations, the appointment of a Minister of Information( one of the main demands of the revolution was freedom of press), members from SCAF putting a low ceiling for freedom of expression on talk shows (Dina AbdelRahman lost her successful morning TV show on Dream because she dared question an army official live on the phone), bloggers being arrested for criticizing SCAF (Maikel Nabil), activists detained (Alaa AbdelFattah), a long list of human rights violations, violence against protesters in front of the Israeli embassy, churches being burnt or demolished, hundreds of Christians killed in the Maspiro massacre in October, the officers who killed protesters in January 25 revolution were not prosecuted, and slow trials of former minister of interior, former president and his two sons, former corrupt ministers, and corrupt businessmen. Prices continued to skyrocket and most Egyptians struggled with their jobs and meeting their essential needs.
On Friday, November 18th – 10 days before the parliamentary elections – hundreds of thousands of Egyptians headed to Tahrir square once again in the biggest demonstration since Mubarak stepped down. They were rejecting the supra-constitutional principles that would have given the military infinite power over Egypt even after a civilian president has been elected. They were also demanding that SCAF hands over power to a civilian government. By sunset, the members of the Muslim Brotherhood and other Islamist political forces left the square while others stayed until SCAF responded to their demands. About 50 victims and families of martyrs from January 25th revolution gathered in the square demanding compensation and medical treatment. They claimed that the current government did not fulfill its promises and that murderers from the police force were still free. By noon, on Saturday 19th officers from the army and the police evacuated the square by force! Activists who were present in the square at the time posted pictures and videos on Twitter and Facebook – they asked for support and backup!
This was how Revolution Egypt Part Two started!
FACTS & FIGURES IN 6 DAYS:
· More than 40 Egyptians died
· About 1700 were injured
· 383 people were arrested
· 12 makeshift hospitals were established
· A wall was built to separate revolutionaries and police forces in Mohamed Mahmoud Street
· Hundreds of thousands protested everyday demanding the downfall of the Moshir (Field Marshall Tantawi)
· Live ammunition, tear gas, nerve damaging gas, rubber bullets, and tazers were used against protesters
· Tantawi gave one speech denying violence and blaming "invisible fingers". His speech infuriated the protesters and their chants against him grew louder
· SCAF held one press conference emphasizing that parliamentary elections will be held on time; Monday 28th. They denied the use of violence, ammunition, chemical gas, military trials, and assured people that the presidential elections will be held by June 2012
AMAZING EGYPT
· About 2000 women marched on Tuesday 22nd to support the revolution and to poke holes into the stereotypical image of passive politically apathetic women
· Salma El Daly (symbol of the duck) called for a women's march named Masyret Masreyat on Tuesday 22nd – the purpose of that march was to head to Mohamed Mahmoud street, march to the front lines, and stand ahead of the male revolutionaries. This was Salma's genius idea to force police officers to cease fire and to put an end to bloodshed
· Volunteer doctors who saved many lives in the makeshift hospitals
· Volunteer doctors in various specializations who will treat the injured for free
· Egyptians on motor bikes carrying the wounded to get medical assistance
· Egyptians lining up to donate blood to save the victims of the shootings
· Volunteers carpooling allover Egypt to collect donations, medicine, blankets, and food from people at home supporting Tahrir
· Tahrir residents who left their wireless connection password-free so that protesters can tweet and broadcast live
· Volunteers who took brooms and plastic bags to clean up Tahrir
· On Thursday 24th a group of doctors climbed the brick wall separating the revolutionaries from the security forces and took shifts through the night and into Friday morning to stop any clashes between the two parties
· Egyptian activists uploaded a video showing the face of the police officer who targeted the eyes of the revolutionaries, the morning after there was a graffiti of him on the walls – wanted! Later on his name, phone and address were circulating on social networks, and on Friday 25th he was arrested!
· The ULTRAS once again outdid themselves! Their experience with combating central security forces saved the day in January 25th revolution and they bravely stood in the front lines during the 6 days uprising in November. Their chants and songs are phenomenal!
POPULAR HASHTAGS ON TWITTER
#TahrirSupplies and #TahrirNeeds were created to help people who were not in the square know what is needed in terms of food, medicine, volunteer doctors, money, etc.
#CentralElTharwa gathers donations from people and recharges mobile phones of those in Tahrir and ran out of credit
#law3andaldam which translates into "if you have blood" was started to guide people to where and how to donate blood for the makeshift hospitals and the hospitals near Tahrir that need blood for the victims of the CSF attacks
#TahrirChants documented the creative and fabulous chants by protesters
#FreeMaikel and #FreeMaikelNabil were created many months ago to support pacifist and blogger Maikel Nabil who was taken from his home, subjected to a military trial, and sentenced to three years because he wrote a blog post criticizing the policies of SCAF. Maikel is still in Jail.
#FreeAlaa was created on October 30th after blogger and activist Alaa AbdelFattah was detained and was sentenced to 15 days, after refusing to be interrogated by the Military Prosecutor, in protest against its legitimacy. Alaa is still in jail.
#FreeMona was created on November 24th after prominent journalist Mona Eltahawy was beaten up and arrested by police officers and military intelligence. Mona was freed the day after with a broken arm, a broken wrist, and lots of bruises. She was sexually assaulted by more than 6 officers.
#FreeMaged was also created on November 24th after Maged El Samny was arrested. The brilliant architect is specialized in nano architecture and was actively delivering supplies and donations in Tahrir. He was arrested and beaten up. His picture all bruised and stitched up made it to social networks!
#da2een3asafeer was created after Tantawi's speech! "Da2een 3asafeer" is an Egyptian slang expression when someone takes you for a fool!
#egyelections monitors reactions to people on the coming parliamentary elections; some people were worried about violence, corruption, and bloodshed. Others were worried about lack of security. Some used this tag when referring to the Islamist parties and others used it when SCAF refused to postpone elections.
#FreeJehane and #FreeJehan were created on November 24th when Egyptian-American film-maker Jehan Noujaime was arrested while filming a documentary about Tahrir. She was released late the day after. She was charged with congregation and destruction of public property.
#FreeMisr is used by tweeps when they feel oppressed or hopeless. Used a lot after Tantawi's speech and after the arrest of Alaa, Mona, Maged, and Jehan.
#HelioCarMarch was created by Heliopolis parliamentary candidate Mahmoud Salem, aka Sandmonkey, to spread awareness about a march from Heliopolis to Tahrir by cars on November 25th. He invited people to join in and make a lot of noise.
#NoSCAF is a hashtag documenting people's frustrations with SCAF policies and decisions. This hashtag has been used since the beginning to the random arrests, torture and humiliation, and military trials starting March 2011.
#OccupyMaspero is an invitation to invade the Radio and Television Building down town and purify it of all the lies and fallacies. This is how angry people are with this media body that twists facts and does not represent the people.
#GanzouryTimes was created on November 24th when rumor had it that 78 year old Kamal El Ganzoury will be appointed Prime Minister. The theme of the hashtag is punning and wordplay on Ganzoury's age and the fact that he was already prime minister back in the nineties in the era of former President Mubarak. The tweets in this hashtag are hillarious if you need a good laugh!
WORST SCENES
· Videos of officers throwing dead bodies into the garbage
· Videos of snipers on rooftops
· Pictures of revolutionaries with bandaged eyes after being hit by rubber bullets
· Gas filling the air and people choking and dying because of it
· Tantawi addressing Egyptians and repeating the same old regime rhetoric
· Egyptian television lying and enticing against protesters
· Pictures of activists that were severely beaten up by police and military
· Video of a female protester being dragged in the street by officers
· Videos of testimonials of female activists who were beaten and sexually assaulted by officers (Bothaina Kamel and Mona Eltahawy)
· Answers of the SCAF members in the press conference that was held on Thursday 24th
· Sexual harassment during demonstrations on Friday 25th
CLASSIC LIES
· No live ammunition was used
· Tear gas is of international quality
· No chemical gas (nerve damaging) was used against protesters
· Protesters in Tahrir are thugs
· Protesters are paid
· Foreign infiltrators are among the honorable revolutionaries
· Hidden agendas of foreign countries and politicians
· The military did not fire at or rundown any Egyptians
· The officers "freaked out" and were acting on their own when they attacked protesters in Mohamed Mahmoud street for 6 days
· Thugs stole officer weapons and are firing at people
· Officers do not have weapons in the first place
· The Minister of Interior is bedridden and did not give any orders to attack
· Tahrir is not Egypt
AT A GLANCE: FRIDAY 25TH "THE LAST CHANCE ONE MILLION MARCH"
· Demonstrations in Cairo and 11 more governorates including Sharm El Sheikh, Assuit, Menya, Sohag, Alexandria, Mahalla, Suez, Port Said, and Ismailia.
· El Baradie praying with people in Tahrir square
· Main chant "The People demand the downfall of El Moshir"
· 78-year old Kamal El Ganzoury was appointed Prime Minister.
He held a press conference attended by a maximum number of 9 journalists in an open air area. There was one microphone in front of the journalists and it was difficult for the audience to hear the questions. His replies could be summed up in one statement: anyone in his right mind would have declined that post but he accepted for Egypt and he does not have a plan yet.
In reaction to Kamal El Ganzoury's appointment, hundreds of activists headed to the Egyptian cabinet headquarters and started a protest there to prevent the new Prime Minster and his not-yet-hired cabinet from entering the building.
· The political entities in Tahrir suggested several people to form Egypt's civilian government of national salvation; former director of the International Atomic Energy Agency and presidential hopeful Mohamed ElBaradei, ex-Muslim Brotherhood member and presidential hopeful Abd El-Moneim Abu El-Fotouh, Karama Party member and presidential hopeful Hamdin El-Sabahi, economist Ahmed El-Naggar, prominent physician Mohamed Ghoneim and judge Zakaria Abd El-Aziz.
· In Abbaseya square, a couple of thousand Egyptians gathered by noon and started a pro-SCAF demonstration. They said that their main concern is stability and that Tahrir people are ruining the country.
TO VOTE OR NOT TO VOTE
Egypt's first parliamentary elections after the revolution were scheduled to start on November 28, 2011. Several candidates put their promotional campaigns on hold and joined Tahrir square. Political entities with the expection of the Islamists urged the Supreme Council of Armed Forces to postpone the elections for two weeks. SCAF refused and insisted that the elections took place as scheduled.
Revolutionaries in Tahrir square had mixed feelings about whether to vote or not; the ones who decided to bycott the elections perceived SCAF as illegitimate and that any elections under their rule are void. Those who decided thought that bycotting the elections is like punishing your parents by not going to a party with them! They decided to vote to try to save what was left of the integrity of the elections.
The three stage of the elections are scheduled to take place on November 28, December 14, and January 3, 2012 over the period of two days per stage. 50 million Egyptian are entitled to vote in Egypt and 166,000 voted abroad in 127 polling stations in Egyptian embassies allover the world. The voters will select 498 members of parliament; 332 of which are lists and 166 are independent candidates.
PART ONE: HERE