For Identity Magazine: Common Sense is not so Common these Days!
Date posted: September 6, 2012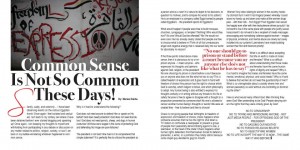 Common Sense is not so Common these Days!
By Marwa Rakha
Silently, sadly, and solemnly … I have been observing events on the various Egyptian fronts! Once again I feel isolated and secluded; I am back to my solitary cell where I have been detained before I ever started blogging and speaking up! Once again, I am keeping my thoughts to myself and withholding from participating in any debate or discussion on any matter related to politics, religion, society, or sex! I am back in my bubble wondering whatever happened to common sense.
Why is it hard to understand the following?
God does not need anyone to defend Him or speak on His behalf! God does need protection! God does not need translators! God does not need parrots, sheep, and dogs in human costumes! All those wars waged in the name of protecting God and defending his image are pure fallacies!
The president is not God! How hard is it to comprehend that simple statement? It is perfectly fine to criticize the president as a person and as a ruler! It is naturally to object to his decisions, to question his motives, and to compare his words to his actions! He is an employee in a company called Egypt owned by people called Egyptians – the president reports to Egyptians!
What would happen if people were free to build mosques, churches, synagogues, or temples? Nothing! Who would they hurt? No one! Would God be offended? No! He would not even care! He has already clearly stated that people are free to choose what to believe in! Think of all that unnecessary anger and negative energy that is released daily into our world for absolutely no reason!
If the three points noted above make sense, then it is obnoxious to try or imprison anyone – I mean anyone – who expresses his thoughts and opinions against God, religion, or the president! No one should go to prison or stand before a court because you or anyone else does not like what he has to say! This is called freedom of expression and it goes hand in hand with freedom of choice! Any person has the right to choose which God to worship, which religion to follow, and which philosophy to adopt. Any human being is also entitled to expressing his thoughts verbally or in writing without any threats to his life or safety! Anyone is free to agree or disagree with a thought or a proposition presented by someone else! No one is allowed to censor another human being's thoughts or words! We were all created free – free to believe and free to choose!
Chaos is not giving people their birthrights to freedom of expression and freedom of choice; chaos happens when someone assumes that he has the right to shut down a TV station or confiscate a newspaper or prevent a group of people from peacefully demonstrating against a law, a law-maker, or the head of the state! Chaos happens when human rights defenders find themselves forced to defend a presenter, a writer, or a politician they totally abhor because some stupid guy decided to gag his mouth!
Women! Any news relating to women in this country makes my stomach turn! I wish I had magical powers whereby I could wave my hands up and down and make all the women disappear – with their kids – from Egypt! Then Egyptian men would live happily ever after with their testosterone-driven pursuits! I do not want to live in the same place with people who justify sexual harassment! I do not want to be a recipient of media messages encouraging and normalizing violence against women – images of physical, emotional, and mental abuse are slowly but surely installed into our systems! Law-makers have made isolating women their first and foremost priority!
What is so difficult about accepting that life on earth is made of males and females? What is so difficult about understanding that those males and females have the same human rights of dignity and respect? Why is it so hard to imagine that males and females have the same mental, emotional, physical, and social needs? Why is it hard to believe that women do not need the guardianship of men? What is so unimaginable about a society where men and women peacefully co-exist without one controlling or dominating the other?
Here is what would really offend God: Men thinking they were God! Men pretending to be God! People denying others to the rights they were initially given by God!
NO TO CENSORSHIP!
NO TO TRYING AND IMPRISONING ANYONE – NOT JUST MEDIA PEOPLE – FOR OFFENDING GOD OR THE PRESIDENT!
NO TO GAGGING OUR MOUTHS!
NO TO FORCED RELIGIOUS BELIEFS!
NO TO OBJECTIFYING WOMEN!
NO TO LIFE IN EGYPT THE WAY IT IS NOW – THE SAME WAY IT WAS BEFORE!