TELEVISION FOR GOMHOREYAT MASR EL ARABEYA! TV FOR THE NATION!
Date posted: November 7, 2011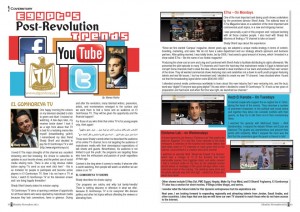 IDENTITY MAGAZINE – NOVEMBER 2011
EL GOMHOREYA TV
One happy morning the colors on my television decided to stick to green and blue! I insisted on watching. A few days later, my receiver broke down! I took it as a sign from above that TV is bad for a lactating mama like myself (breastfeeding ya3ni!) I remembered my dear friend Shady Sherif and decided to pay his El Gomhoreya TV a visit (http://www.elgomhoreya.tv)
I loved it! The major strengths of this channel are excellent streaming and fast browsing, the choice to subscribe to updates to your favorite shows, and perfect use of social media sharing tools. There is also a big obvious visible button saying "To send us your work click here" – this is an invitation for people to participate and become active players in El Gomhoreya TV. Now I do not have TV at home, I watch El Gomhoreya TV on the television screen and I lived happily ever after!
Shady Sherif clearly states his mission saying:
El Gomhoreya TV aims at opening a window of opportunity for all those talents who were rejected by mainstream media because they lack connections or fame and glamour. During and after the revolution, many talented writers, presenters, artists, and moviemakers emerged to the surface and we want them to find a home and an audience on El Gomhoreya TV. They will be given the opportunity and the financial support!
For those of you who think that online TV is for young people only, think again!
الشعب عايز ياكل و يشرب لكن دى ثورة جيل … جيل زهق و طهق!
احنا مش جيل عايز الحرق … احنا جيل قام و انتفض و قال كلمة حق
Those were Shady's words when he described the audience of his online TV channel; he is not targeting the audience of mainstream media with their stereotypical expectations of talk shows and guests. Nevertheless, his audience is not limited to youth; the programs are targeting those who have the enthusiasm and passion of youth regardless of their age.
Content is the king when it comes to media; if what we offer is worth watching, then people will watch us whether we are online or on TV.
EL GOMHOREYA TV SHOWS
Shady describes his shows saying:
Our programs are catchy and witty but family-friendly! There is nothing obscene or offensive in what we offer because El Gomhoreya TV is for everyone! We discuss politics and other hot topics without offending the viewers or alienating them.
E7na – On Mondays
One of the most important and daring youth shows undertaken by the prominent director Sherif Arafa. The editorial team of E7na Magazine takes on a selection of the most important and controversial youth topics, in a new and intriguing manner.
I was personally a part of this program and I enjoyed working with all those creative people. I also lived with Shady the dilemma of finding a TV channel to take on board!
Shady Sherif says about this experience:
Since we first started Campus magazine eleven years ago we adopted a unique media strategy in terms of content, branding, marketing, and sales. We do not have a sales department and our strategy attracts sponsors and business partners. After getting married, I was totally broke and by 2008, I saved a good amount of money and I invested it in a show called E7NA – like the name of our Arabic magazine!
Producing the show cost an arm and a leg and I partnered with Sherif Arafa to facilitate distributing its rights afterwards. We presented the pilot episode to many TV channels and I learnt the hard way that mainstream media in Egypt is twisted and corrupt! Some channels tried to steal the idea, others wanted to steal members of our team and produce their own version of the show. They all wanted commercial shows featuring stars and celebrities not a down to earth youth program featuring talents and real life issues. I lost my investment and I decided to create my own TV channel. I was shocked when I found out that broadcasting signal alone costs $300,000 USD!
I attended several media conferences worldwide to learn about this new industry that I was venturing into, and the buzz word was "digital"! Everyone was going digital! This was when I decided to create El Gomhoreya TV. It took us two years of preparation and hard work and when the time was right, we launched our channel.
Hezb El Kanaba – On Tuesdays
A married couple who support the ex-regime live in Tahrir, during the heart of the events. They interview a number of prominent characters in the political and social arena and together they delve into comedic conflicts with their guests, as they try to talk them out of their revolutionary ideas.
I watched the episode with Mahmoud Salem – AKA Sandmonkey. I enjoyed the debate! Riham and Ezzat are hilarious! The guests are unpretentious and present their points with simplicity. What I enjoyed the most was the fact that the presenters gave the guest a chance to talk!
Ekhtarna Lak – on Wednesdays
A show inspired by the famous "Ekhtarna Lak" that used to be aired on Egyptian TV in the 80s. Every episode of the show introduces a selection of the funniest and rarest videos that have been aired on TV channels or have gone viral on the internet, all presented in a creative and comedic manner.
I watched an episode titled "Abyad we Eswed Top Scenes" which was a collage of 15 of the funniest and most memorable scenes from Egyptian black and white movies! I had a constant smile on my face as the selected scenes stirred waves of nostalgia to the good old days when I was a kid and a teen in the making. The sketches were short and the whole episode was brief and light – perfect for those who watch from work!
Other shows include El Nas Dol, PMC Egypt, Hayaty, Make Up Your Mind, and El Share3 Yoghanny. El Gomhoreya TV also has a section for short movies, V-Blogs (video blogs), and series.
I wonder what the future holds for this dynamic entrepreneur but his aspirations are:
Next year, I am looking forward to expanding regionally and attracting talents from Jordan, Saudi Arabia, and other countries. I also hope that one day we will have our own TV channel to reach those who do not have access to the internet