My Momma Wants My Daddy To Die – By Hala Mohamed
Date posted: December 22, 2011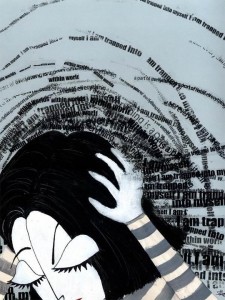 "Would you tell me what your fathers do?"
This is what Arnold Schwarzenegger, played Detective John Kimble, asked in the movie "Kindergarten Cop".
A kindergarten is a place where you get honest answers … honest; yet hurtful … or maybe hurting, if you're still having issues with your inner child …
Kids began answering the question.
Interesting answers …
Funny answers …
Heart-breaking answers …
Even embarrassing answers …
You name the answers!
I'll stick to one particular answer because, allow me, I relate to it.
The "D" word!
Personally, I see divorce as so/very fair!!
Divorce is not a shame … simply because God Announced it as a legal act …
He Doesn't Want any of the two to suffer and be stuck together under one roof: END OF STORY!
But in this article, I'm "talking" about the problems of "D": How parents use divorce unknowingly to sabotage their children, basically on the psychological level.
Let me start from the start …
Let's say that this child is living with their mother. What happens when the child says they want to see their father?
This mother will either say a direct no, which I find so stupid and naive!
Or; she will let the child go, and then afterwards, she will do her very best to prove that their father is a "bad guy", which I find even more stupid!
If she uses either "technique" … she will complete it by EMOTIONAL BLACKMAILING:
Most of the time, you will find that mother saying, "Your father left us. He ignored us. He ignored you. He's still ignoring you. I was and still am there for you. I never would leave you." … and it goes!
Still, she will do her very best to make the child feel guilty about judging her, if they ever think about saying, "You pushed daddy away. You don't want me to see him. You are keeping him away from me." Or they may hurt her so badly, if they say, "Daddy is not so bad; you're being unfair. He's kind unlike you're telling me!" … and it still goes! The keyword here is GUILTY.
And …
Another thing is REJECTION:
When that child, living with their mother asks to see their father …
The mother wants to support her child the best way she can … so she takes them there!
What happens when the father rejects the child, his very own child?
That would result in low self-esteem …
It would be super easy for them to feel rejected even when others don't mean it …
At this point, children feel that the man who's "supposed" to be loving them most is not there …
The most beautiful relationship: Father/Child is cracked … cracked because the father doesn't feel like "I want this relationship!" … It's sad and awful!
But I have understood this: When one parent rejects their very own child, then they don't have what it takes to be a parent … Sounds weird yet true!
When a colleague rejects you … it happens and it's not so weird.
But when your parent rejects you … it's not normal. Something has fallen from the equation … something that only your [high] self-esteem will help you get over.
If you're one of these children …
You'll get over it … I've been there one day. It takes time, but you will.
You will if you want … only if you want.
My Very Dear Reader,
I have no idea why I'm sharing this personal story … I guess it's for the sake of that kind of "strange" connection- writer/reader thing:
"My father left when I was eight …
I realized his absence when I was fifteen …
I went to see him when I was seventeen …
I had stopped contacting him before I turned nineteen … because I felt completely rejected.
I saw him exactly six times during the period of being between seventeen and nineteen …
Needless to say … it was awful!! He was not very encouraging anyways …
I used to tell my mother, "Why did you leave? You should've stayed in this marriage for me. You're a mother!"
Years later, I asked myself: How did my mother manage to stay with him for whole ten years?, when I couldn't stand him for a couple of hours …
Momma, TWO THUMBS UP!
As a twenty-year-old, I've got over my parents' divorce … I'm not ashamed to say that it took me three years to do it … But I'm glad to say I [finally] did it!"
I am not going to list do's and dont's to this kind of immature parents, so to speak … this is not my job.
But the battle of the exes certainly needs to stop.
STOP IT NOW because I think you love your children …