THE TRIAL OF DEMOCRACY ACTIVISTS – WHY WERE THE NGOS RAIDED?
Date posted: April 18, 2012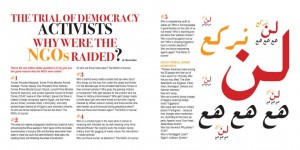 THIS ARTICLE WAS PUBLISHED IN IDENTITY MAGAZINE – APRIL 2012
THE TRIAL OF DEMOCRACY ACTIVISTS
WHY WERE THE NGOS RAIDED?
That is the one million dollar question! Let me give you five good reasons why the NGOs were raided:
#1
Former President Mubarak, former Prime Minister Ahmed Shafeek, Former Deputy President Omar Soliman, Former Prime Minister Essam Sharaf, current Prime Minister Kamal El Ganzoury, and current Supreme Council of Armed Forces (SCAF) swore on their mothers' graves that there is indeed a foreign conspiracy against Egypt, that there are evil forces, invisible hands, third party, and nasty wicked fingers behind all Egypt's post revolution ailments.
So who are those mentioned in the last two lines? NGOs of course!
#2
The mean pro-regime propaganda machine has touted all horns announcing that those people in Tahrir were not the honorable revolutionaries of January 25 and that they were either hired spies or mere lost souls that were tricked by hired spies into creating chaos and hindering the wheel of production!
So who are those hired spies? NGOs of course!
#3
Who is behind every media scandal and top news story? Who brings out the dust from under the carpet and throws it in the delicate eyes of the armed forces on their armored vehicles? Who gives the grieving mothers a microphone? Who gets the civilians in military prisons lawyers? Who gets foreign media to write about girls who were forced to have their virginity checked by officers while in custody and those women who were beaten up and harassed during peaceful protests?
Who are those dust throwers again? NGOs of course!
#4
Who is a constant pain in the neck when it comes to revealing well-intended lies by well-meaning army officials? No virginity tests! No civilians facing military trials! No gagging of media voices! No intervention in media policies!
Who are those human lie detectors? NGOs of course!
#5
Who is empowering youth to speak up? Who is training people in governorates on the uses of social media? Who is teaching people about their political choices? Who is pushing against corruption? Who is showing Egyptians how to monitor elections?
Who are those empowering agents again? NGOs of course!
QUOTE FROM AL AHRAM NEWSPAPER:
"Thirteen Americans were among the 20 people who flew out of Cairo airport on Thursday after the ban was lifted. The other defendants are Egyptian, Palestinian, Norwegian, Serbian and German nationals."
Now let's recap;
Who are currently facing charges of illegally receiving foreign funds? Egyptians!
Who were sent home on military planes? Foreigners – because their charges were misdemeanors, according to Cairo appeals court head Abdel Moez Ibrahim
Who has the worst PR policies? SCAF!
Who is the Biggest Loser? Egypt's Judiciary System!
لن نركع
هع هع هع