Marwa Rakha for HE Magazine: HAVING A KID WILL RUIN YOUR MARRIAGE!
Date posted: December 28, 2014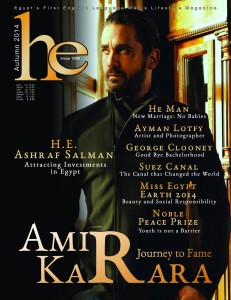 Published in HE Magazine – December 2014
HE-MAN
By Marwa Rakha
HAVING A KID WILL RUIN YOUR MARRIAGE!
Dear HE-MAN,
Did you know that one in five Egyptian marriages ends in divorce? Did you know that one in three marriages end in divorce in the first year? Did you know that according to a poll by Business Insider magazine 17% of Egyptian newlyweds get divorced? Did you know that a recent survey found that Egypt's national divorce rate increased to 2.2%, with the majority of divorces documented in the urban areas, estimated at just under 60% of the total? Did you know that most divorcees among men are between the ages of 30 – 35 at 19.7% while among women, the highest divorce rate is documented between the ages of 25 – 30 constituting 23.4% of the total? *
John N. Edwards, professor of sociology at Virginia Tech, says: "Children, especially preschoolers, have a destabilizing effect on the marriage. Children can mean even more inequitable workloads for women — already dissatisfied at having to do roughly 80 percent of the household chores, lowered rates of interaction between the husband and wife, and increasing dissatisfaction with the financial picture. "Children cost a lot of money and create a financial strain that has an effect on people's happiness with their marriage"
Dear HE-MAN,
Let me break it down for you into more digestible bits;
THE WOMAN YOU PAID AN ARM AND A LEG TO GET MARRIED TO IS NO LONGER FUNCTIONING
Egyptian men usually feel cheated once the wedding is over and the door is closed! A friend once told me after three months of his marriage: "Between the "shabka", the dowry, the in-case-of-divorce money, the wedding, and the honeymoon, I paid more than a million Egyptian pounds on top of an apartment to have 10 lousy sexual encounters with a woman who is never happy!"
Most couples start their marital life in one form of debt or the other; credit card payments, bank loans, real estate installments, or loans from friends and family. In less than a year, while they are still trying to iron the creases of cohabitating for the first time semi independently from their parents, the wife gets pregnant!
There you are my dear HE-MAN, financially pressured, married to a woman who is insatiable on all levels, struggling to maintain your space and freedom, and about to become a father! Fatherhood is much scarier than debt! The lifetime commitment to a child could get much uglier than working your way around bad credit!
People expect you to be happy! Your parents, friends, and in-laws expect you to be happy! Your wife expects you to be happy! You cannot afford expressing anything but happiness! You sleep every night next to a woman who is growing fatter by the day, you wake up to her recurrent visits to the bathroom, you hear/see her throw up, burp, fart, and complain of headaches, bloating, and all sorts of smelly discharges! Her skin reacts to the pregnancy and is filled with freckles, blisters, or both! Her hair hates her head! She looks equally horrible whether dressed or undressed! Like poor Gulliver in the land of the giants, you observe her huge dark nipples and dark black line that starts from her bellybutton and seems to end down-under somewhere! You are terrified by her cravings, her aversions, her newly found complain-worthy issues and challenges! You are offended by her continuous rejection of your amorous approaches! You send her off to her family to care for her while you talk to friends and online strangers about your grief!
If you attended the birth, you are a hero Mr. HE-MAN! If you did not attend the birth, it is okay! In both cases, you will never see your wife the same way again! Her once perfect, almost perfect, or acceptably perfect body has been scarred, marked, stretched, poached, and is now leaking milk even when the baby is not breastfeeding! Yes! Breasts leak! You are turned off! You are disgusted! You try to show support but deep down you are repulsed to the core!
After the baby, your wife is always tired and exhausted, always sleepy, and always distant! You are tired of the crying baby, the crying wife, and all the screaming in between!
HOME FEELS NOTHING LIKE HOME
What was once a delight to look at, is now an untidy unclean unmaintained block of bricks! You stumble upon clothes, clean and dirty diapers, shoes, toys, and leftover food as you try to find your way inside the house! There are always noises! Between those of the baby's cries and the mother's mayday signals, you seek a moment of peace and quiet, and when the baby is finally asleep, you are asked to zip it or the baby would wake up! At times, you eat cooked meals but most of the time you place your orders by phone! Deep down you feel ignored, left out, and estranged from everything around you!
THE SINGLE MARRIED MAN PHENOMENON
You are legally married but you are starved for attention, love, sex, and fun! You are out on your own most of the time! You are up late alone most of the time! You are watching TV by yourself most of the time! You eat microwave-heated "stuff" most of the time! You feel single and before you know it, you begin acting single!
THE ANGER AND RESENTMENT
You are angry with your parents for not talking to you about any of this! You are angry at those who blame you for being unhappy or ungrateful! You are angry at social norms, traditions, Egypt, and Egyptian women! You resent your wife in silence and you work very hard to try to love that baby! You turn into an ATM machine and every morning there is a new list of things that need to be bought!
ATTEMPTS TO "CONTROL" THINGS ONLY MAKE IT WORSE
Mr. HE-MAN decides to take over this floundering ship! You command that the baby sleeps in another room, that the breastfeeding stops, that the woman pulls herself together and starts listening to you, that the house has to been clean and tidy by the time you get home, that you eat a fresh home-cooked meal at least three times a week, and that your wife starts leaving "that baby" somewhere so you could feel like a human being again!
Like a good wife, she grants you one or two requests and ferociously fights you over the rest! Again, you feel
The woman you paid an arm and a leg to get married to is no longer functioning

Home feels nothing like home

The single married man phenomenon

The anger and resentment

Attempts to "control" things only make it worse
THE MOUSE-TRAP
Like a mouse, you are trapped between accepting the grueling facts of a life you were unprepared for, or severing your limbs in your attempted escape! You calculate how much is at stake, how much more money you will have to pay, how you will manage with "that baby" in between the two of you, where you will live, and how you will make all ends meet!
THE BIG ESCAPE
With the divorce rates quoted in the beginning of this article, it is quite obvious that many men make it towards the big escape and get a divorce! Others have in public and in private affairs! There are those who meet other women online or in real life! They all find an escape!
THE END
For many men, this is the end but then again there are others who believe that the grass is greener on the other side of the fence, and they jump into another relationship leading to another marriage but this time they make it very clear that they do not want any kids!
In the next issue of HE Magazine, I will give you plenty of rescue tips to help you and your marriage survive the baby boom!
*Statistics courtesy of CairoScene.com